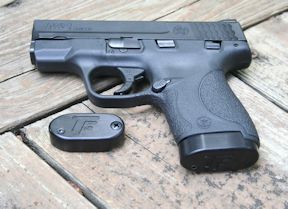 S&W Shield +1 Mag Pack
Set of two +1 extensions for the S&W Shield.
All Shields ship with two mags, one 7-round, one 8-round. However, the 7-round is too short for most people to use comfortably.
Extends both magazines enough to allow a full grip.
Includes a special "tail hold" screw on one extension, securing the sliding collar of the Sheild's 8-round magazine.
Makes the 8-rounder "speed reloadable," even when carried upside down in a mag pouch.
Made in the USA by Taylor Freelance, LLC.
We cannot ship this part internationally.